What are Interventional Procedures?
Interventional procedures are performed under imaging guidance (usually ultrasound or CT) to accurately target the specific area, minimising risk for improved outcomes. A specialist radiologist performs these examinations, and our staff provide support during the procedure. Sometimes you will need to stay in the clinic post-procedure for observation, and you may be asked to bring a family member or friend to drive you home afterwards.
Interventional procedure availability varies from clinic to clinic, with some of our larger clinics offering a wider range of procedures. The tests offered sometimes relate to a specialty area of a particular radiologist.
What do you need to bring to your appointment?
Your referral form
Medicare card or any concession cards
Any prior imaging
Is an appointment required?
Yes, all interventional procedures at our clinics require an appointment.
What Interventional Procedures are offered at Capital Radiology clinics?
Under ultrasound, selected Capital Radiology clinics offer the following procedures:
Bursal or joint injection (cortisone)
Fine needle fluid aspiration
Biopsy
Autologous blood injections
Platelet rich plasma (PRP) therapy
Under CT, selected Capital Radiology clinics offer the following procedures:
Facet joint injections
Epidural injections
Nerve root injections
Shoulder Hydro-dilations
Biopsy
When is the next availability for interventional procedures?
You will need to check the availability for your specific interventional procedure with your preferred Capital Radiology clinic.
What are the limitations around driving after procedures?
This will depend on the interventional procedure performed. At the time of your booking, our team will let you know of any limitations around driving post your procedure and answer any other questions around the procedure and recovery instructions.
How long does it take for the injection to work?
This will be dependent on several factors that your GP and our team will take you through prior to your appointment.
Do I need a new referral, or can I just use the same referral from a previous appointment?
You will need to obtain a new referral from your GP or specialist prior to making an appointment. Referrals are only valid for one procedure, unless otherwise stated for a course of treatment.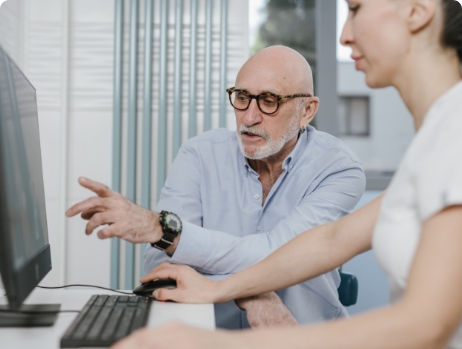 Find a clinic
We have multiple locations across Victoria, Western Australia, and South Australia.
Find a Clinic
Fees and billing
In most instances, we bulk bill to Medicare, but it is important to check with your individual clinic prior to your service.
Fees & Billing