What is a CT scan?
A Computed Tomography (CT) is a medical imaging procedure that uses X-rays to create detailed pictures or images in very fine slices. Each picture created during a CT procedure shows organs, bones, and other tissues in a thin slice. The entire series of pictures produced in CT is like a loaf of sliced bread. Each slice can be looked at individually or viewed as a whole.
You will be scanned on what is known as a multi-slice CT scanner which has the ability of producing up to hundreds of slices that are often less than 1mm thick. CT is widely used to help diagnose:
Circulatory system disease and conditions, such as atherosclerosis, aneurysm, and blood clots
Spinal conditions
Masses and tumours
Kidney and bladder stones
Inflammatory diseases, such as ulcerative colitis and sinusitis
Injuries to head, skeletal system, and internal organs.
Gout, arthritis, and fractures of the extremities.
What to expect from a CT scan?
A CT scanner is an open shaped doughnut ring through which a table passes. Patients are positioned comfortably in a variety of ways, depending upon the area of imaging interest. The patient lies still on a flat surface as the table moves through the doughnut. Often, an entire scan can be done while the patient holds his or her breath for only one inhalation and exhalation.
The process is painless and takes between 5 & 15 minutes
Sometimes an injection of contrast, a special dye will be given into your arm to help display the area clearly. A radiographer will be available at all times during the examination to answer questions and ensure you are comfortable.
Is a CT scan painful?
CT scans are non-invasive procedures that are generally painless and fast.
How to prepare for your appointment
Most CT scans require minimal preparation. Our staff will advise you at the time of booking if any preparation is needed for your scan. Be sure to wear comfortable clothing and note that you may be asked to change into a gown and remove metal objects including glasses, jewellery, and dentures as they can affect the scan quality. It is very important to tell the receptionist if you are pregnant, have diabetes or any allergies.  
What do you need to bring to your appointment?
Your referral form - please note we accept all referral forms from all providers
Medicare card
Pension or concession card
Any prior imaging
Work cover or motor vehicle accident claim details
When will my doctor receive the results? 
Our radiologist will interpret your examination and send the results directly to your doctor as soon as they are available. Your doctor will review your results and explain these results to you.
Fees and billing
As a community focused radiology provider, in most instances, we bulk bill to Medicare, but it is important to check with your individual practice prior to your service.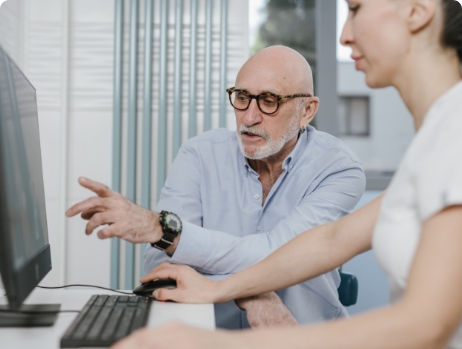 Find a clinic
We have multiple locations across Victoria, Western Australia, and South Australia.
Find a Clinic
Fees and billing
In most instances, we bulk bill to Medicare, but it is important to check with your individual clinic prior to your service.
More info